Our Company
Comfy Kozy® Heating Cooling Plumbing is a family and veteran-owned business that provides a comprehensive range of plumbing, heating and air conditioning services. The business was started in 1919 by Steve Fergelec which was carried on by his son Stephen Fergelec who ran the business with his two sons Steve Jr. and Anthony Fergelec.
After the passing of Steve Fergelec Jr., the business was passed on to Anthony Fergelec. The business name was changed from Fergelec Plumbing Heating and Air Conditioning to Comfy Kozy® Heating Cooling Plumbing in 2007. We now have 5 staff members serving the customers in the Local area. Comfy Kozy® is a prime provider for American Home Shield and HSA home warranty companies. Comfy Kozy® has implemented a policy that ensures the customer's satisfaction through the choice of repair level according to their liking.
Our experienced technicians are highly trained and skilled to handle any plumbing, heating or air conditioning job you throw at us. We are fully licensed and insured for your protection. Each member of our team has passed through a strict background check and drug test for your safety and peace of mind. We are a team of friendly plumbers and HVAC technicians who will treat your home or property with respect and leave it clean, or even cleaner than before, after completing the job.
From dripping faucets to replacing that old air conditioner on its last leg to upgrading your entire heating and cooling system in your home, Comfy Kozy® Heating Cooling Plumbing is ready to take on your job.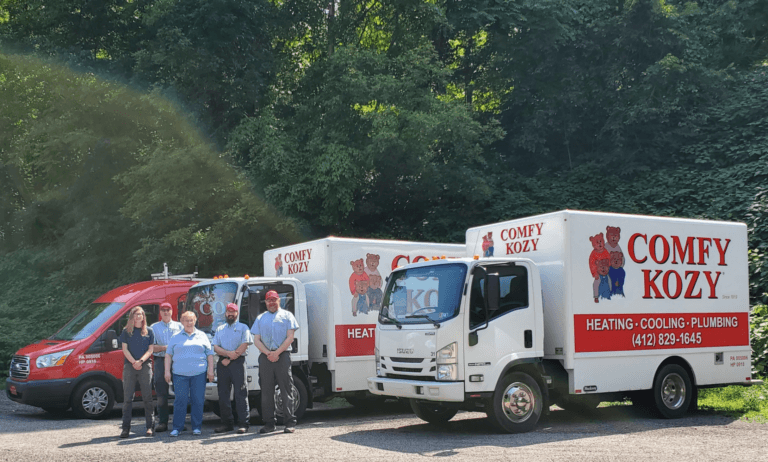 Our President
The President Anthony Fergelec is a Navy Persian Gulf War Veteran who is also an instructor at Associated Master Plumbers of Allegheny County Plumbing Apprentice Program while holding a Master Plumbing and Master Mechanical licenses. He is also a volunteer at Hartford Heights VFD. Anthony oversees the day to day operations of the business, providing top-quality products and service that you can trust. He values his customers' time, which is why Comfy Kozy® Heating Cooling Plumbing has a 100% customer satisfaction guarantee. In fact, the key to Anthony Fergelec's success is hard work, dedication and above all honesty and fairness to his customers. This same legacy of character has been carried on and is used today with Comfy Kozy® Heating Cooling Plumbing.
Our Core Values
We've been serving Eastern Allegheny and Western Westmoreland County since 1919, building a solid reputation on Honesty, Integrity, Transparency, Professionalism and old-fashioned values.
Our Mission Statement
To satisfy the demands of each unique customer by providing services and products that set high standards for quality, reliability and value for their money. We've implemented a policy that ensures the customer's satisfaction through their choice of repair level.
Why Choose Comfy Kozy® Heating Cooling Plumbing
24-Hour Plumbing, Heating and Cooling Services
We're available 24 hours a day, 7 days a week to handle any plumbing, heating and cooling emergencies for our existing Service Agreement customers.
100% Customer Satisfaction Guarantee
We believe in providing our customers with exceptional plumbing services coupled along with outstanding customer service. We guarantee that you will be satisfied with the work we do.
Highly Experienced Technicians
Highly experienced technicians that are well equipped
Well Equipped
Our technicians drive a fully stocked rolling warehouse with state-of-the-art tools.